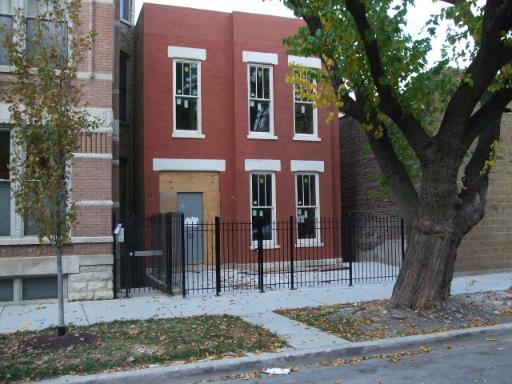 The lowest-priced single-family home in Wicker Park, excluding a short sale listing at 1234 N Marion Ct (marketed as a "hot Bucktown location", despite being just a half block from Division Street), is this "gorgeous historical landmark redstone" at 1315 N Wicker Park Ave, priced at $495,900.
The home dates back to 1891, but has undergone a complete gut rehab and is currently a "vanilla box," ready to be finished to the buyer's specifications. It has a main level with space for a kitchen, living room, dining room, den, and bath, an upper level divided into two master suites, and a lower level with a third bedroom, family room, bath, and laundry room. New iron fencing and gates surround the property, and a new slab at back will accommodate at least two cars.
This home's buyer had better be a fan of urban living, because Blue Line trains run 24/7 along elevated tracks immediately behind the lot. The trade-off is that the home is about a third of a mile from the Blue Line's Damen and Division stations. Its address gets a "very walkable" Walk Score of 89 and an "excellent" transit score of 73 from WalkScore.com.
(Visited 114 times, 1 visits today)