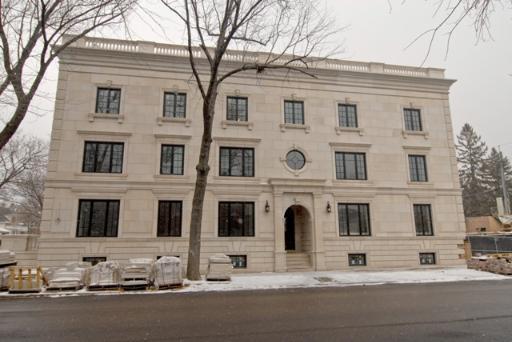 $2,995,000 might have been a good starting point for this 8,000 square-foot, new-construction mansion at 2216 W Grace St in North Center, but two weeks were all its builder needed to know that a lower price was in order. Yesterday the home dropped 10%, to a new list price of $2,699,000.
The home, built by Varney LLC, features a "stately Palladian-inspired 80-foot facade on a corner lot overlooking St. Ben's Cathedral"; five bedrooms, nine full baths, and three half-baths; an elevator servicing all floors; a master floor with library and kitchen; a roof terrace with kitchen, fireplace, hot tub, and bath house; and a 2.5-car garage with breezeway and courtyard. Charles Schnuda and Marc Devereux of Coldwell Banker have the listing.
Between 2003 and 2008, seven single-family homes sold at $2 million or more in the North Center community area. Nothing's gone for that much since, but sellers keep on trying; along with this home, there are single-families priced at $2.3 million, $2.6 million, and $3.47 million. Close to the neighborhood, just east of the Brown Line, a new 6,800 square-foot home listed at $2.19 million is under contract.
(Visited 362 times, 1 visits today)