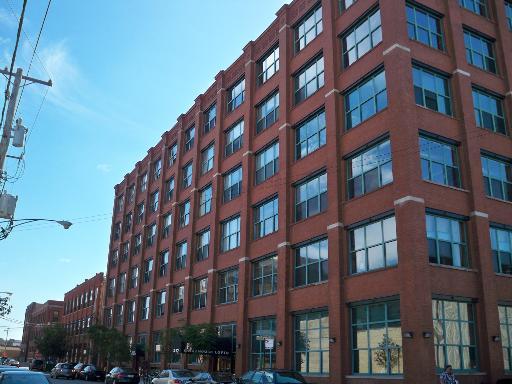 Our files on Warehouse Lofts, a brick-and-timber loft building in Fulton Market, date back to its days as a rental development managed by Annie Properties. (How's this for a tagline: "The sun rises in the east. Chicago rises in the West Loop.")
In 1991 the six-story warehouse at 312 N May St was adapted into 56 units with 1,300 to 3,200 square feet, featuring 1.5 to two baths, in-unit laundry, hardwood floors, carpeted bedrooms, track lighting, central air, and, in some cases, wood-burning fireplaces. Amenities included a common rooftop deck, an 80-foot open-air atrium, a 24-hour door staff, a high-speed elevator, and indoor and outdoor parking. By the mid-Nineties, units ranged in price from $1,200 for a studio to $3,000 for a two-bedroom.
A CribChatter post from 2008 says the building's shift from rental to condo happened around 2000, as a part of American Invsco's "Loftominium World" conversion of seven West Loop and South Loop buildings. Cook County records show a sale of the building in February 2000, at a price of $11.5 million, followed by a string of unit sales starting in late January 2001.
Ten years later, the building is the site of four listings, all listed far below their '04 to '08 sale prices. One, unit 2IJ, caught my eye today after popping up on a list of newly discounted homes: the combo four-bedroom, which has four bedrooms and (is this right?) 1.5 baths, has had six prices cuts in five months, dropping from $364,500 in September to $259,900 as of last Friday.
It last sold in January 2004 for $500,000. Blockshopper says it went into foreclosure in 2009.
The listing by Arthur Cirignani of Chicago Realty Partners says the loft has east and west exposures. Warehouse Lofts may be a timber building, but the pictures accompanying this building show a lot of concrete elements, including thick concrete pillars. Fans of 42-inch cabinetry, granite countertops, and stainless-steel appliances will have to install these elements themselves — the kitchen has two small mounted cabinets, white appliances, and a linoleum counter.
No square footage is given, but an IJ combo that sold last year for $397,000 was said to have 3,000 square feet.
2009 taxes are $8,052, and monthly assessments are $583.
(Visited 409 times, 1 visits today)