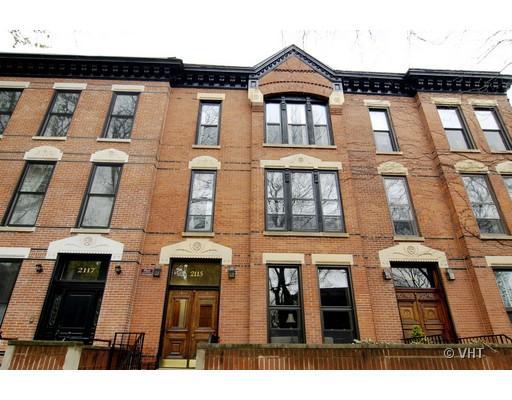 A vintage three-bedroom / two-bath condo at 2115 N Cleveland Ave in Lincoln Park has a few things going for it — namely, "Location, location! Lincoln School!" in the words of listing agent Clare Zaro of Coldwell Banker. Indeed, the address gets a "very walkable" 86 from Walk Score, and is just three-tenths of a mile from Lincoln School. (Lincoln Park High School is even closer.)
Unit #2 came to market on February 18 at $600,000, which was more than what it sold for in June 2006 ($570,000) or September 2005 ($545,000). After a couple days, however, the price was cut to $500,000. The home features high ceilings, crown moldings, a wood-burning fireplace, built-in bookshelves, wainscoting, window seats, large windows, a kitchen with granite countertops and stainless stel appliances, a master suite with a marble bath and Jacuzzi tub, a 50-foot patio, and a roofdeck.
One garage parking space is included. 2009 taxes are $7,822, and monthly assessments are $299.
(Visited 154 times, 1 visits today)