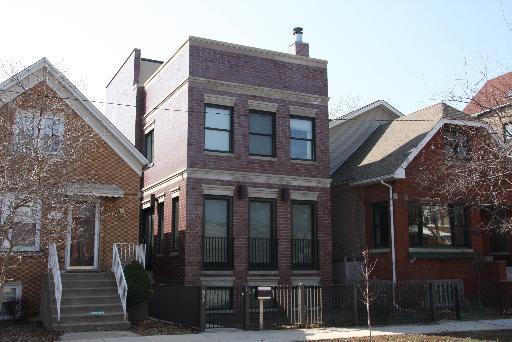 How long should a home stay on the market at its introductory price before taking a cut? How long should it stay at a new price before changing once again? For two new listings near Holstein Park in Bucktown, the approach seems to be to reduce the price early and often.
The three-year-old single-family home at 2333 W Shakespeare Ave (above) last sold in June 2010 for $1.05 million, according to Redfin. Exactly two weeks ago, on March 9, Tony Zaskowski of Property Consultants Realty listed the home at $1.07 million. It dropped to $999,900 on March 13, to $984,900 on March 19, and to $949,900 on March 22 — that's almost 12% off over two weeks.
The 3,500 square-foot, four-bedroom / 3.5-bath home has a "rarely available attached garage," a kitchen "like you see in a magazine," an entertainment room with a wet bar, dry and wet saunas "to decompress," heated floors, and a rooftop deck, according to Zaskowski's listing.
A half-block north of the Shakespeare home is another new listing — a 3,400 square-foot, four-bedroom / 3.5-bath home at 2153 N Claremont Ave. The home has been on and off the market since August 28, 2009; between that day and February 4, 2011, the home saw more than 100 price changes. Zaskowski relisted the home on March 11 at $569,900, cut the price to $549,900 on March 13, then to $519,900 on March 15, then to $509,900 on March 18, then to $499,900 on March 22. Again, 12% off in two weeks.
The property is listed as a single-family, but it currently serves as a two-flat — the listing describes the upper portion as a three-bedroom / 2.5-bath duplex-up rented out at $1,800 a month, and the basement as a one-bedroom / one-bath rented at $1,000. The building has separate heating and laundry for each of the units.
While I'm at it, I'd expect a new price for the 4,300 square-foot, five-bedroom / three-bath home at 2329 W Lyndale St. It started out at $1.54 million and has dropped 15 times since; on March 7 it was $1.29 million, and on March 19 it was $1.28 million. Someone will bite eventually, right?
(Visited 81 times, 1 visits today)