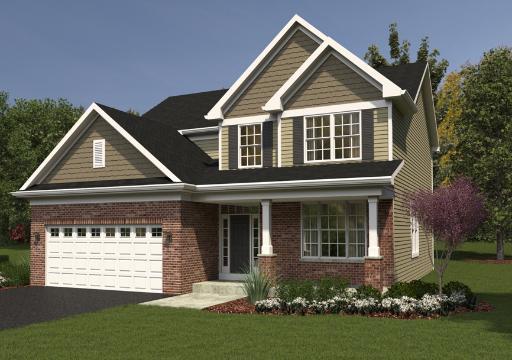 Neumann Homes, once one of the nation's largest homebuilders, filed for bankruptcy protection in 2007, and developer Ken Neumann told Bloomberg Businessweek in 2008 that he was "through with home building, since it could take years for the market to recover." He was looking, he said, for opportunities in "clean energy."
Neumann's hiatus from home building hasn't lasted all that long. His latest venture, Greenscape Realty, is currently offering new homes for sale, priced from the high $300s to the high $600s, in Elmhurst, Downers Grove, Glen Ellyn, Naperville and Wheaton.
The home pictured above is a 4-bedroom, 2 ½ bath with a basement and 2-car garage on a 55 x 124 foot lot at 1128 Campbell Ave in Wheaton. It's priced at $399,900 and scheduled for completion in March or April of next year.
My son Jordan bought a Neumann home in Antioch 5 years ago at a development that, ten years after it began, is only about a third complete, with no signs of new construction in the offing. The promised clubhouse and pool were never built, but I'd cautioned Jordan that it might never be, and it wasn't a factor in his purchase. Neumann Homes was building the most attractive floor plans at the price point in the northwest suburbs at the time, and my son has been completely satisfied with the product that Neumann built.
Bloomberg closed its piece by stating that "the people who bought his homes are still stuck." I wonder how many of them would say that today.
(Visited 802 times, 1 visits today)