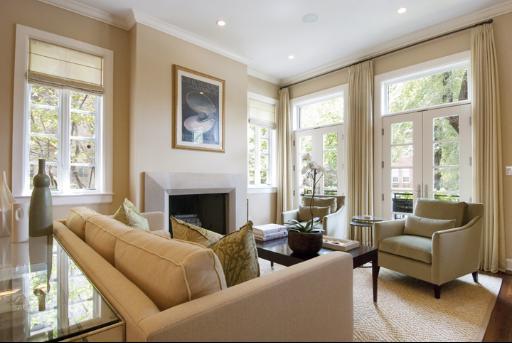 Here are four homes on the high end of the Old Town home market that closed between January 1 and March 31, according to Redfin's records:
Condo: 1436 N Wieland St Unit 3N, a two-bedroom / two-bath home. Listed in January 2010 for $699,000; closed in February for $562,500. A duplex penthouse with hardwood floors, an updated kitchen and baths, a family room or den, a back deck, a private rooftop deck, and one garage parking space. 2009 taxes were $10,363 with a homeowner exemption; monthly assessments are $219.
Townhome: 334 W Old Town Ct, a three-bedroom / 3.5-bath home with 3,000 square-foot. Listed in August for $750,000; closed in February for $620,000. An extra-wide corner townhome with a family room, 10-foot ceiling heights on the living level and 9-foot heights on bedroom floors, a granite eat-in kitchen with a breakfast bar and stainless steel appliances, a rooftop deck, a fenced front yard, and a two-car attached garage. 2009 taxes were $10,033; monthly assessments are $112.
Single-family home: 1449 N Mohawk St, a five-bedroom / 5.5-bath home with 5,000 square feet (pictured). Listed in September for $1.89 million; closed in March for $1.73 million. A "mint condition" single-family with a gated front entry, a landscaped garden, a gourmet kitchen with banquette, two wood-burning fireplaces, three en suite bedrooms, a penthouse-level great room with a wet bar, a media room, two laundry rooms, three decks, and a two-car garage. 2009 taxes were $27,805 with a homeowner exemption.
Multi-family building: 1535 N Hudson St, a three-flat with 10 bedrooms and seven baths. Listed in October for $1.15 million; closed in January for $1.06 million. The building features hardwood floors, granite kitchens with stainless steel appliances, in-unit laundry, wood-burning fireplaces, vaulted skylines, skylights, decks, and garage parking. 2008 taxes were $14,700.
(Visited 89 times, 1 visits today)