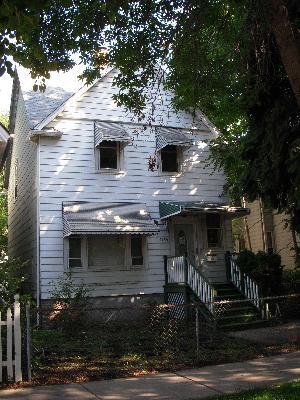 Rogers Park isn't a big market for single-family homes. In the past 12 months, 27 single-families inside the community area have sold, at prices ranging from $55,000 all the way up to $835,000, and a median price of $295,000.
Redfin shows 25 single-family listings in Rogers Park this morning, ranging from $49,900 to $950,000, and a median of $321,000. The homes have been listed for 111 days on average, and 11 have had some sort of price reduction during their time on the market. Another three homes, priced in the $190s, $220s, and $480s, are under contract.
One of the newest of Rogers Park's listings is the three-bedroom / 2.5-bath home at 1746 W Pratt Blvd, a "very walkable" address, according to Walk Score, being just three-tenths of a mile south of a Metra station, a half mile west of the Red Line stop at Morse Avenue, and short distances to at least five different bus stops.
The 1,288 square-foot home is priced at $289,900, which is quite a step up from the $89,000 that owner/agent Peter Bianchi of Key Realty paid for it in a November 2009 bank sale, but still below the median prices for Rogers Park's current listings and recent sales. According to Bianchi's listing, the home has been outfitted with new windows, HVAC, appliances, kitchen and bath finishes, and a 2.5-car garage. It features hardwood floors on the first floor and tile throughout the finished basement. 2009 taxes on the home are $5,827.
The home isn't an entirely new listing — Redfin's records show it being on the market from September to December 2010, with one price change occurring in November. No dollar amounts are included in those records, though, and the unit was off the market entirely from December until yesterday.
(Visited 30 times, 1 visits today)