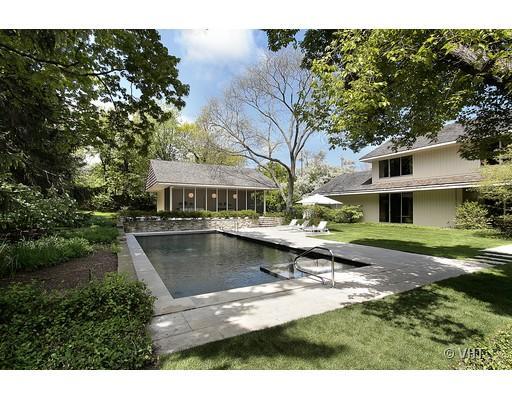 Ernest A ("Tony") Grunsfeld III, who died in April, designed many North Shore homes in a modernist style. In his oral history at the Art Institute he counted himself fortunate to have designed more than 30 homes on Lake Michigan.
Privacy was a core element of his approach to designing homes, and a prime value for his often wealthy clientele:
I think houses are very private. That's where you go hide, that's where you're with your family, where you can take your shoes off and be comfortable. I think that's sort of the idea of the gate and the moat and drawbridge. Then there's the lake and the ravine or a beautiful garden that is all your private space. I think [my] houses are intentionally closed in the front. I'm not sure they're unfriendly. They are certainly private.
An 8,700 square foot Grunsfeld home on 1.3 acres at 95 Brentwood Dr in East Glencoe closed last week at a selling price of $2,875,000 – 28 % below the $4,000,000 for which it was purchased in 2001. The lushly landscaped grounds include a tennis court, pool and a pool house with his and her baths.
Coldwell Banker's Julie Deutsch and Susan Bernstein represented the seller and buyer, respectively.
(Visited 308 times, 1 visits today)