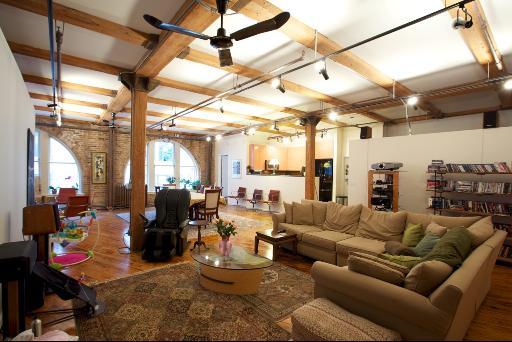 Scott Berg's listing for unit #5 at 714 S Dearborn St isn't the first time I've seen a Printers Row home compared to a New York loft. This "Soho style" timber loft (Berg's words) was listed a week ago at $729,000, $79,000 more than for what it sold five years ago.
It's a big space — between Berg's listing and a still-active for-sale-by-owner listing, it's described as having 3,017 square feet, spanning a full floor, with six 12-foot-wide arched windows opening to both the east and west, and 10-foot ceiling heights. It has three bedrooms, two baths, hardwood floors, and a combination of exposed timber and brick.
Parking is an additional $42,000, 2009 taxes are $9,221, and monthly assessments are $895.
714 South Dearborn is nine stories high, offering retail (including Sandermeyer's Bookstore) at ground level and eight lofts above. The building's last sale was the eighth-floor loft, which sold in 2010 for $675,000.
(Visited 1,065 times, 1 visits today)