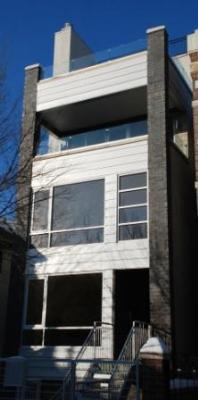 Buyers now have three more homes to consider when looking at new construction in West Town. Yesterday Samantha Porter of @properties listed the units in Halcyon Development's newest three-flat, located at 879 N Marshfield St in East Village, and next Thursday will hold a buyers-and-brokers open for the units at another of the devleoper's buildings, 1452 West Walton.
879 North Marshfield's three homes are:
Unit #1: Three bedrooms, 2.5 baths, 2,400 square feet, $549,000
Unit #2: Two bedrooms, two baths, 1,250 square feet, $385,000
Unit #3: Two bedrooms, two baths, 1,500 square feet, $449,000
Two-bedroom condos in West Town that were built in the past year or currently under construction have a median list price around $350,000, and three-bedrooms have a median around $450,000.
Finishes at 879 North Marshfield include flat-paneled mocha and high-gloss cabinetry; integrated appliances; quartz, porcelain and glass elements; white oak floors; 8-foot birch doors; steam showers; heated floors; and decks. Each home comes with a parking space in an attached or detached garage. Monthly assessments for each unit are $200, and cover water, common insurance, exterior maintenance, and scavenger.
(Visited 190 times, 1 visits today)