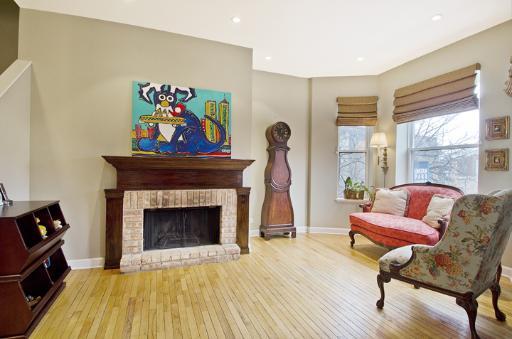 Today's rental pick is in a building that I renovated and converted to condos back in 1979 – 1980, and is a unit that I lived in for several years.
The building was known as The Cecil and it had 50 1- and 2-bedroom units when I acquired it. I gutted the building and reconfigured it into 36 2- and 3-bedroom units, 28 of them duplexes. The building was converted to condos as The Kensington – a name my sales staff suggested after throwing darts at a map of London.
We were able to sell only twelve of the units in a severely depressed market, and held twenty-four of the units for rental until 1985 when the market had begun to recover. After negotiating a 60% discount on my loan balance, I priced the units for a quick liquidation, concerned about how long the market uptick would last. The final unit to sell was the one I was living in, 1052-B W Armitage. I don't recall the exact selling price, but it was somewhere in the $140s. The unit resold for $204,000 3 years later.
The 3-bedroom, 2 ½ bath duplex-up has been on the market for 10 days, and is offered for sale at $559,000 and for rent at $3,200 a month.
The unit has been substantially upgraded and has had some floor plan changes. The separate formal dining room has been opened to what had been an eat-in kitchen.
Somewhere along the line one of the owners eliminated the soaring two-story space in the living room to create a bay-windowed seating area in an expanded master bedroom suite. I don't know how many of the duplex-up units have been reconfigured in that way, but I do know that enough of my prospective buyers asked about the possibility to convince me I should have built the units the way this one's been redone.
To the best of my recollection the duplex-up units had slightly over 1,900 square feet, as measured by the architects. This unit has, as noted, some additional square footage but the listings state it as 1,850 – so much for the notion that brokers always overstate square footage.
Coldwell Banker's Jennifer Ames has the listings.
I walked around the building a while ago, noting that the building's better in a number of ways than when I sold it. Here's the video from my walk:
(Visited 576 times, 1 visits today)