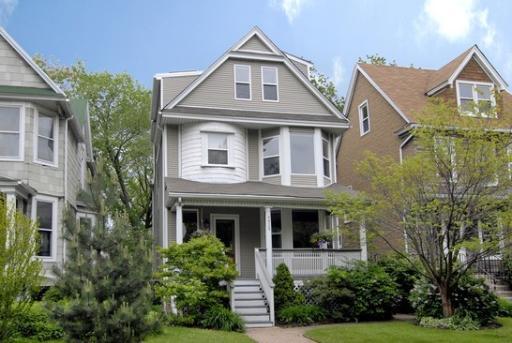 This "fantastic and spacious" four-bedroom home at 4829 N Paulina St sold for $805,000 back in June 2007, according to Zillow. In February 2009, its owner tested the market with a list price of $849,900, and decided more than a year later that $749,000 might be more reasonable. The house has bounced on and off the MLS ever since, but always kept that price until yesterday, when it was trimmed down to $700,000.
Judging by Redfin's data, that price probably a little below the median for single-family listings in the vicinity, but higher than the median sale price over the past year.
According to the listing from Greg Desmond of Prudential Rubloff, the home sits on a 33′ x 165′ lot, allowing for a wider-than-usual floor plan and enough space for front and back yards and a detached two-car garage. The main level features a dining room, a living room, a fireplace, and a kitchen with cherry cabinets, granite countertops, and stainless steel appliances. Three bedrooms and two baths are located on the second floor, leaving the top floor for the master suite alone. The home's lower level is used as a family room.
2009 taxes are $10,624. The home's gets a "very walkable" Walk Score of 88 and an "excellent" Transit Score of 74. (Bus stops for the 145 Wilson / Michigan Express, 148 Clarendon Michigan Express, 81 Lawrence, and 22 Clark are all nearby, and the the Damen Brown Line station is about a half-mile away.)
(Visited 43 times, 1 visits today)