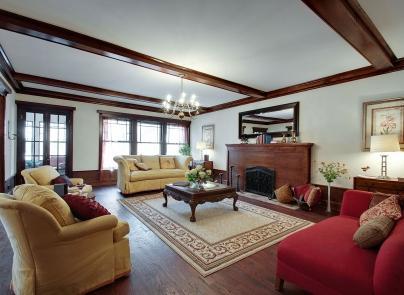 Unit 1B at 5052 S Woodlawn Ave in Chicago's Kenwood neighborhood has been on and off the market for just over a year. A month ago the asking price was reduced from $669,000 to $599,900.
According to Redfin the property was listed for sale in June of 2009 for $490,000, reduced to $325,000 in August of 2009, and purchased in January of 2010 for $250,000.
The $250K sale is contemporaneous with the dismissal of a foreclosure suit that was pending against the property. One of the defendants in the case, Walter Pitchford, was apparently represented by the United States Attorney's Criminal Division – which may have had some bearing on the rapid-fire price drops.
The current listing indicates that the 4-bedroom, 3-bath unit has undergone a substantial remodeling of late, which might account for the substantial increase in asking price since the prior sale.
The property has shrunk since the last time it was listed, from 4,000 square feet to 3,600 square feet, and gained a full bath. Urban Search's Diane Silverman is the broker of record on both listings.
An open house is scheduled at the 4-bedroom, 2-bath Unit 1B this Saturday, May 21, from 11 to 1 p.m.
If you visit the open house you might inquire about Unit 2B, a 4-bedroom, 2 ½ bath unit at 5052 S Woodlawn that's listed for sale as a short sale at $250,000.
There's been little turnover in the 12-unit 5048 – 5054 S Woodlawn condo over the years, and no sales at a price comparable to what's being asked for Unit 1B at 5052 S Woodlawn.
(Visited 152 times, 1 visits today)