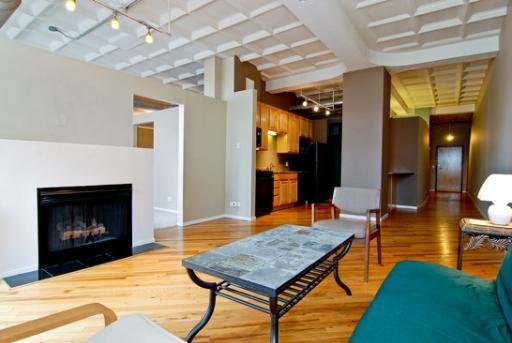 Is $225,000 for a 1,285 square-foot, two-bedroom / two-bath loft in the South Loop the "Deal of the Century"? That's how Lynn Laddish Plata of @properties opens her listing for unit #303 at the Film Exchange Lofts, 1307 S Wabash Ave. The home has 11-foot high coffered ceilings, in-unit laundry, gas fireplaces, an open kitchen with granite countertops, and a balcony.
Heated parking is available for an additional $30,000. Taxes are $3,340, and assessments are $377.
I admit, I keep looking at Redfin's new Agent Insights, mostly to see how far these Realtors will go in critiquing a property or adding missing data. (A few comments have come down over the past few days to avoid violating rules about steering.) Redfin agent Ali Donoghue's Tweet-sized report on this loft adds a couple of important pieces of information. First, the unit has partial-height walls, not at all uncommon but still not mentioned in the listing itself. (You can see the walls in the listing photos, though.) Second, there's water damage to the floor in the entry hall — I would guess that means the loft's entry hall, not the building's, but it's not clear.
New West and Chicago Metro Developers adapted the old Vitagraph Studios motion picture storage and distribution center back in 1999. At that time, one-bedroom lofts ranged from the $120s to $140s, two-bedrooms ranged from the $150s to $220s, and eight new-construction penthouses ranged from the $260s to $380s.
One one-bedroom loft is currently available in the $180s, and another two-bedroom is priced in the $280s. Only one unit in the building has sold in the past year: a 1,250 square-foot, two-bedroom / 1.5-bath that was offered for as much as $320,000 and closed in June at $272,500.
(Visited 345 times, 1 visits today)