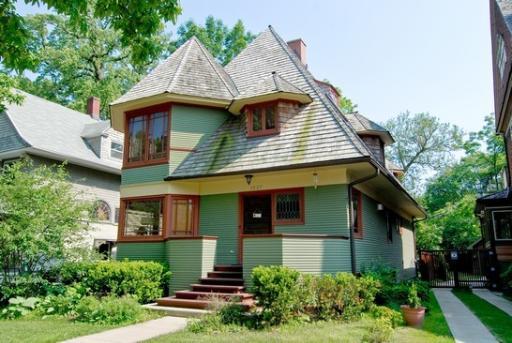 Right down the street from Frank Lloyd Wright's Home and Studio in Oak Park, sits the Thomas Gale house, one of three homes which were designed by a moonlighting Wright while he was still employed by Adler and Sullivan. When Sullivan found out about these side projects and others, Wright was summarily dismissed. And the rest is history.
The house and the other 'bootleg' houses around it are significant in that they show FLW's early development patterns. Though the house has a Queen Anne style design, it incorporates some of the rectilinear features that would later become hallmarks of Wright's more commonly-known Prairie designs. The home became an Oak Park landmark in 2002.
The landmark home, located at 1027 Chicago Avenue, just went on the market. Touted in the listing copy as 'the most livable Frank Lloyd Wright house', the home has been completely updated and modernized.
Zak Knebel of Coldwell Banker has the listing.

(Visited 457 times, 1 visits today)