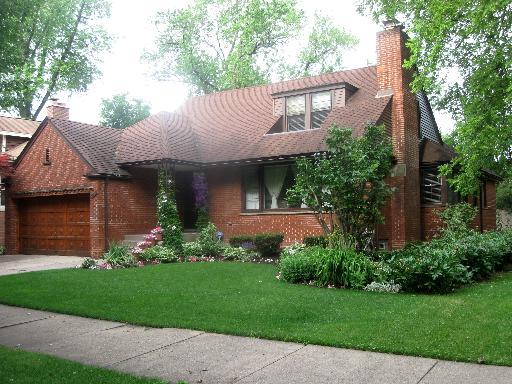 Rudolph Boehm isn't a name I see mentioned outside of Beverly. From what I gather, Boehm wasn't a prominent architect, but he designed several well-regarded Tudor and split-level homes in the South Side neighborhood in the early to mid-20th century, including one, the AJ Doermann House at 9209 S Winchester Ave, that the Beverly Area Planning Association considers historically significant.
One of the newest listings in Beverly is a Boehm-designed home at 9038 S Claremont Ave, priced at $379,000. The home was built in 1953 and features "space for everyone," according to Nancy Hotchkiss of Prudential Biros Real Estate — it has 2,202 square feet of living space, and sits on an oversized lot with a fenced-in yard. (Hotchkiss, incidentally, was the listing agent for the only other Boehm home we've mentioned at YoChicago.) It has four bedrooms and two baths, and features a marble fireplace, crown molding, a kitchen with new granite countertops, hardwood floors, radiant heat, new electric and siding, a basement that was renovated in 2004, and a master bath that was renovated in 2006.
2009 taxes are $5,617 with a homeowner exemption.
Single-families in Beverly currently range in price from $79,900 for a two-bedroom home being sold through an estate sale, to $1.2 million for a 6,000 square-foot mansion overlooking Longwood Drive. The current median is $315,000, the price of a 1,400 square-foot four-bedroom / 1.5-bath on Vanderpoel Avenue.
(Visited 641 times, 1 visits today)