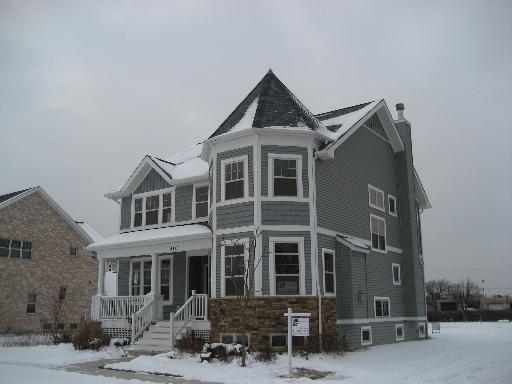 Last week I pointed readers to a new-ish home at CA Development's Edgebrook Glen in Jefferson Park that was on the market for $450,000, more than $543,000 below what it sold for in September 2007. "Should sell rather fast," said Eric Rojas in the post's comments, adding that he had alerted a client about the deal. Last night Eric returned to say that the home went under contract in just five days.
Dream Town Realty appears to be marketing Edgebrook Glen's unsold inventory, and has four homes on the market, including two that were listed at the beginning of the week. Their listings include a couple of three-bedroom / 2.5-bath homes, one with 2,500 square-feet, priced in the $380s, and another with 2,483 square feet, priced in the $410s, as well as a 3,216 square-foot four-bedroom priced in the $540s and a 3,772 square-foot five-bedroom priced in the $580s.
The only other listing in the development is a 3,635 square-foot, four-bedroom / 3.5-bath home listed by Berg Properties. Yesterday the home received its first price reduction in four months (albeit a modest one), dropping from its original list price of $629,900 to $599,000.
In all, that puts the average price per square foot at Edgebrook Glen at $163, still well above the $104 for the heavily discounted home.
(Visited 192 times, 1 visits today)